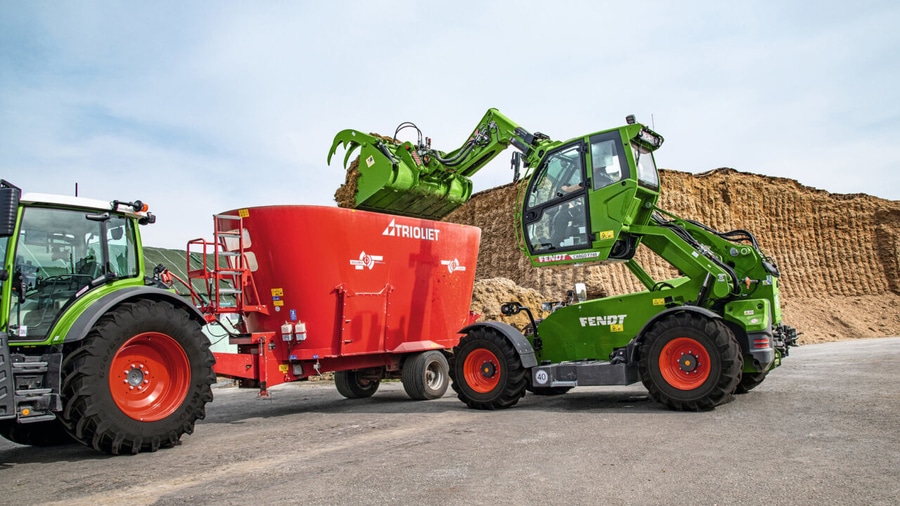 #

Trade Shows & Events
Fendt to bring its Cargo T740 to FTMTA show
The Fendt Cargo T740 telehandler with its elevating cab has been around for a while, yet it hasn't been seen in Ireland – until now.
The company has just announced that it will be the star exhibit at this year's Farm Tractor and Machinery Trade Association (FTMTA) show to be held at Punchestown Racecourse on July 5-6.
Solid growth
Alongside the novel telehandler at this year's FTMTA event will be the new 728 Gen 7 tractor and Tigo forage wagon, as well as several other tractors from the manufacturer.
Fendt has experienced solid growth in Ireland over the past few years, although it is still some way off topping the sales charts as it does in its home country of Germany, where it sells over a third of its tractors.
Yet the company has been chipping away at the Irish market and now accounts for just under 4% of total sales despite being regarded by many as a brand only suitable for those with a generous budget.
Breaking through
This image is being further challenged by the company as it gears up for this summer's event. Richard Miller, sales and marketing manager for UK and Ireland, notes that Fendt now offers an extensive range of products and will be using its stand to showcase the machinery that it now provides to farmers.
"This year we have a focus on tractors in the 100-200hp sector that can be specified with loaders, whilst also showing the future with the new 728 Gen 7 tractor," he said.
The emphasis on tractors with loaders suggests that it is intent on breaking into the livestock sector.
Longevity is one of the key features of the brand, and not all the farmers in Germany run big arable units, so they must have some appeal in this market segment.
Cargo T740 for farm and factory
As for the Cargo T740, which will be on display at the July event, Richard does not expect Ireland to be a great market for the machine.
However, it has sold to farms in the UK, especially in the north, and there may well be interest from industry over here.
Overall, he reports that the company has full order books as dealers restock their inventories and the expansion into the Americas gains traction. Issues over component supply are easing, although he cautions that "we are not out of the woods yet".