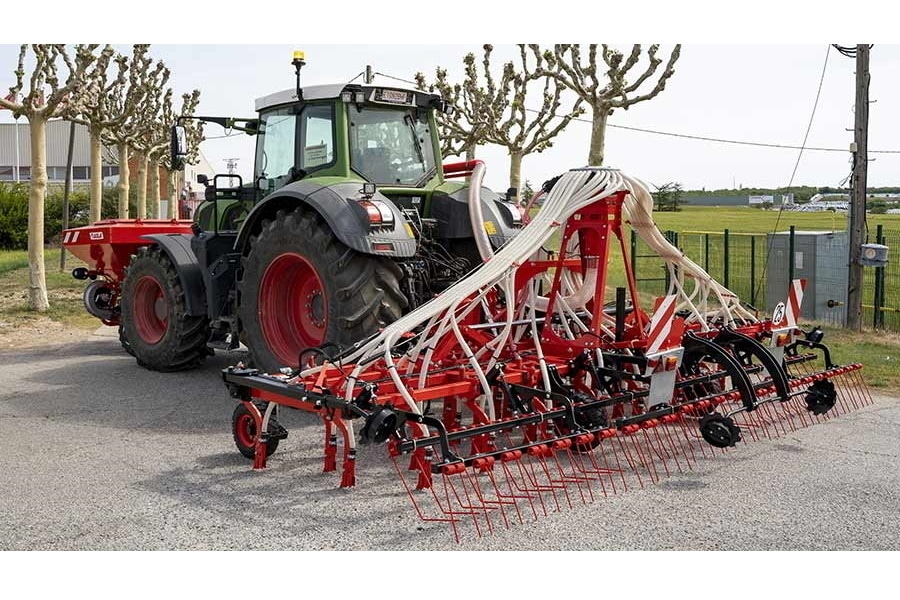 #

Farm Machinery & Equipment
KRM unveils Seed Ramp tine drill and Sola Aura front tank
A new combination of rear drilling unit and front-mounted hopper has broadened the range of sowing equipment offered by North Yorkshire importer KRM.
Splitting the Seed Ramp frame and Sola Aura tank delivers better weight distribution than the conventional piggyback setup traditionally offered by KRM and, in doing so, potentially reduces the size of tractor required and resulting soil compaction.
It also comes with various metering options, allowing more experimental growers to sow companion crops or lay grain and fertiliser simultaneously.
The drill element features a lightweight frame available in widths of 4m, 4.8m, 5m, 6m and 7m, all of which fold to 3m for transport.
These incorporate the same heavy-duty, tungsten carbide-tipped SM coulters as the established SM-P and SM1909 drills, with the narrow, rigid and forward-angled tines suitable for working straight into stubble, on min-till seed beds or over ploughed ground.
They provide a crop row spacing of 160mm (250mm is available as an option), with the coulters on each of the four rows spread 400mm apart to minimise the risk of trash bung-ups.
Auto-reset springs add an extra layer of protection against stone damage and the like.
At the back is a following harrow comprising angled and straight tines to consolidate the ground and conserve moisture in dry conditions.
Also part of the package is a 400mm-diameter rear-fold bout marker with its own break-back system.
Aura front tank
Buyers can choose whether to fit one or two distribution heads, fed by the new 2,000-litre Aura pressurised front hopper.
This can be supplied with Sola's single or twin stainless steel, electrically driven metering units, the latter allowing for either manual or GPS-based half-width shut-off.
Rates of between 2kg/ha and 400kg/ha are possible, set via an isobus control system that allows for tramline shut-off and the monitoring of forward speed, fan speed and hopper level.
It's also geared up for auto on/off at the headland, variable seed rates and comes with the option of a central divider to store and meter two products separately.
A 6m, 47-row Seed Ramp with SM coulters is priced at £33,490, while the Aura front hopper starts at £22,730.
According to KRM, this makes it significantly cheaper than a comparable disc drill, it costs less to maintain, and offers more flexibility when conditions are less favourable.