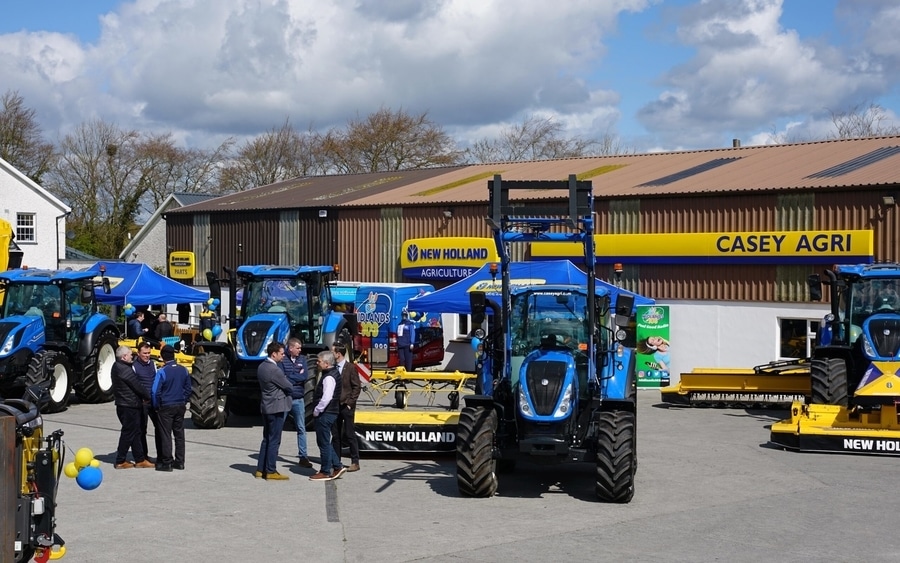 #

Industry News
Casey Agri officially launched as New Holland dealers
After the gloom of a cold, wet spring, the bright sunshine of an April day was a welcome gift to Casey Agri as it officially launched itself as the New Holland-appointed dealer for Co. Offaly and surrounding area. Adding to the occasion was the news that the company had already reached this year's target for tractor sales and was looking forward to further brisk business.
Hitting the ground running
The strong demand for tractors was mirrored by that for machinery. With access to the full line-up of New Holland products, Casy Agri has also seen its initial stock of grassland equipment sell out – with mowers in particular enjoying a strong demand.
Agriland first visited the company last autumn, soon after the news of its appointment by New Holland as its latest dealer.
There was, at the time, a little trepidation, with Bob and Denise Casey playing down any great expectations for the new venture, as it turned out however, their understandable worries were totally misplaced for business has since boomed.
New customers for Casey Agri
The benefits of taking on a major franchise extend beyond the sale of new tractors. One of the great side effects is that it has brought in a whole raft of new customers who are buying peripheral items such as tools and parts, in addition to the purchase of new machinery.
This is a welcome addition to the income stream and will help finance the expansion of the premises, a project which is already underway with the ground for new workshop and showroom facilities being prepared behind the present yard.
Selling new tractors has brought in good used-stock as farmers upgrade their fleets. Bob notes that the trade-ins have been a valuable addition to the business as good used-machines are becoming scarce due to supplies of lower horsepower models from the UK dwindling.
The launch day also saw some deals being struck and, with the arrival of a New Holland T5 and a T7 as demonstration models, bookings were also made to get them on to farms this season.
Trials and tribulations
Despite the rewards of taking on New Holland there have been challenges along the way. Denise notes that it was getting to know the manufacturer's internal systems which was the major trial, but perseverance has paid off for she is now an enthusiast and is greatly impressed with what can be done.
She also praises the back up and support offered by New Holland which gave them every encouragement during the introduction of its thorough parts and ordering process, a system which is designed to ensure that the tractors can be properly serviced and maintained once out in the field.
This data-centric approach extends beyond the office; it is integrated into the tractors themselves through telemetry and she has found that customers are gradually coming to appreciate the information that can be gathered and used to improve efficiency.
There will be no sudden transition, but Denise, who comes from the hospitality industry, is well aware of the benefits of digital technology and is a keen advocate for bringing them to farms.
Methane harvesting
In addition to the staff at the dealership there were representatives from New Holland, including Liam Hayde, area sales manager for Ireland, present.
Liam is another who sees a bright future for the new franchise and is, in turn, a keen advocate of another technology that is making its presence felt of late, and that is alternative fuels.
New Holland has taken a lead in the implementation of methane as a move away from diesel and has gone so far as to purchase Bennamann Ltd., a company that has sought to introduce the methane energy cycle farms.
The potential is huge according to Liam, and there are many ideas being explored within New Holland as to how best to recover the gas and monetise it, whether it be as an on-farm energy source or as another product for the farm to sell.