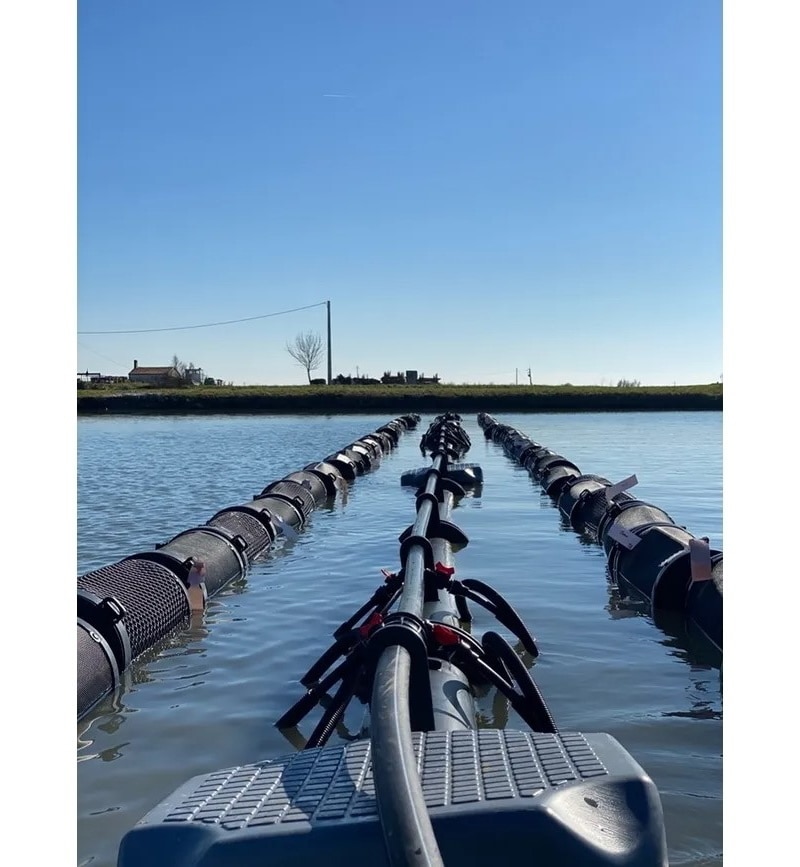 #

Livestock
The French oyster revolution
Seaducer, a French startup, has developed the Roll'Oyster – an innovative and low maintenance system for producing oysters in sheltered coastal areas.
France is the world's fifth producer of oysters - behind China, Korea, Japan and the USA. But, while the sector is growing 5 to 10 percent each year, it still faces various challenges.
However a new French startup, called Seaducer, is developing innovative systems to help address some of these oyster farming issues.
Seaducer was founded in 2019 by François-Eric Vauchez and Jérôme Bosmans – the latter also being the R&D manager, working alongside Pierre-Henri Galavielle, one of the R&D engineers. With over 27 years' experience in aquaculture, Bosmans has occupied many positions in this sector – from researcher, to farm technical manager, to international consultant – while Galavielle worked 12 years for Medithau / Tarbouriech – a renowned oyster farmer in the Mediterranean – developing mechanised and automated oyster trestles.
The company currently has six employees, with 60 years of accumulated experience in aquaculture, engineering and consultancy. They emphasise that they want to provide equipment to promote better management of oyster production and improved profitability, while reducing aquaculture's impact on the environment and improving farmers' health.
Their invention was inspired by the gruelling physical work, climate change challenges and low survival rates that threaten oyster farming – both in France and around the world. Traditional farming systems require a lot of physical work: rotating 8-15 kg oyster bags repetitively, farmers end up carrying multiple tonnes throughout the years. Regarding climate, producers are concerned by the changes to come; and most of them are trying to anticipate it by adapting their production to new systems. Water quality is also of major concern for the sector.
As we have seen in the past, oyster populations can rapidly be decimated by disease infections, such as ostreid herpesvirus 1, which is currently affecting Pacific oysters (Crassostrea gigas). Furthermore, the survival rates in oyster farming are commonly very low. Up to 80 percent of oysters are lost during the production cycle, which is also something Seaducer has the ambition to improve with their technology.
The main goal of Seaducer is to develop and provide answers to these different problems through innovation, which is how they created a robust, energy-efficient and automated system called the Roll'Oyster.
Silvain Charbonneau, the general manager of Seaducer and industrial engineer specialised in business consultancy, presents the Roll'Oyster technology to farmers as "a system that values your know-how." He explains that the startup was able to develop innovations thanks to its own research and development budget, combined with private shareholding funds.
The Roll'Oyster system combines various tools and technologies. The working principle is to artificially reproduce tides, wind and current with an alternation of immersion and emergence of oyster baskets. As its name suggests, it is a rolling automated system, and this can be programmed to alter the duration and frequency of emergence/immersion cycles.
Each module contains 16 oyster baskets, with a maximum capacity of 10 kg each. The technology can also be combined with other tools to create an overall automated system. These include remote connection, a sustainable energy source (solar panels), oxygen and temperature sensors, anemometer, air-lifts and paddle wheels that generate water movement and recirculation to provide better water quality and stability.
All of these technologies can be regulated from the air-room; "the heart of the system". This is a small structure – 120 x 80 x 70 cm – located besides the pond that can be controlled remotely. One air-room can control 16 Roll'Oyster modules – ie 256 oyster baskets, or 2.5 tonnes of oysters per cycle.
"It produces low pressure air and controls its entire distribution in each Roll'Oyster module that are operating thanks to a ballast principle. The air-room management is carried out using a simple and visual interface: the touch screen makes it possible to visualise the data collected and to pilot the daily rolling and exposure cycles," explains Charbonneau.
After successful internal pre-growing and fattening cycles, it is now time for farmers to trial an entire oyster growing cycle. The company's ambition is to significantly increase the quality and survival rate, and therefore the yield.
They also want to value a specific "merroir": the salt marshes, of Marennes Oléron, which are located in Charente-Maritime, on the west coast of France. Wetlands represent 60 percent of Marennes' surface – covering 10,000 hectares. Their system is deployed in closed ponds which can be regulated by locks. In these conditions, farmers can have better overall control of water parameters (temperature, salinity, oxygen), growth and food sources.
The technology can also be incorporated within an integrated multi-trophic aquaculture (IMTA) system – with shrimp, for example. Ultimately, the Roll'Oyster is a technology adapted to any protected area – coastal ponds, tanks, small lagoons etc – with a minimum water depth of 0.6 m.
The system cannot yet be used offshore because the strong waves and currents would alter the technology. One of the startup's goals is to re-evaluate the possibility of farming oysters in under-exploited coastal areas, such as wetlands, that possess a very high productivity.
The technology was patented in 2018, in France and internationally. The company started commercialisation 18 months ago and initially focused on securing "ambassador clients" to increase their visibility and credibility in the oyster sector.
Their first two ambassadors, Gillardeau and David Hervé's companies – who are both located in Marennes Oléron – are well-known for their high-quality oyster production, especially in French gourmet restaurants. They wanted to invest in innovation and to modernise their farming systems. And Seaducer has since attracted eight new customers in 2022, in France and Italy.
One of the main obstacles they face is the reluctance of some traditional oyster farmers to invest and to innovate.
According to Charbonneau, there are traditional farmers who do not want to change at all; traditional farmers who are facing a systemic change in their farm and are driven to innovate; and the visionaries who take the risk to anticipate and to bet on technology as part of the answer to their current issues.
Another hurdle for farmers is the investment cost. However, according to Charbonneau, Seaducer's equipment is eligible for "potential grant funding of up to 50 percent" from the French government, in a bid to drive innovation in aquaculture and improve working conditions.
Seaducer has also developed a specific partnership with major banks in order to "offer producers loans at very interesting rates." Even without these loans and grants, Charbonneau anticipates a positive return on investment (ROI) of 1-4 years.
Looking ahead the startup aims to add new technology functions to the existing system this year. And, according to Charbonneau, they also aim to broaden their market from oyster farming to other aquaculture sectors… so, stay alert.