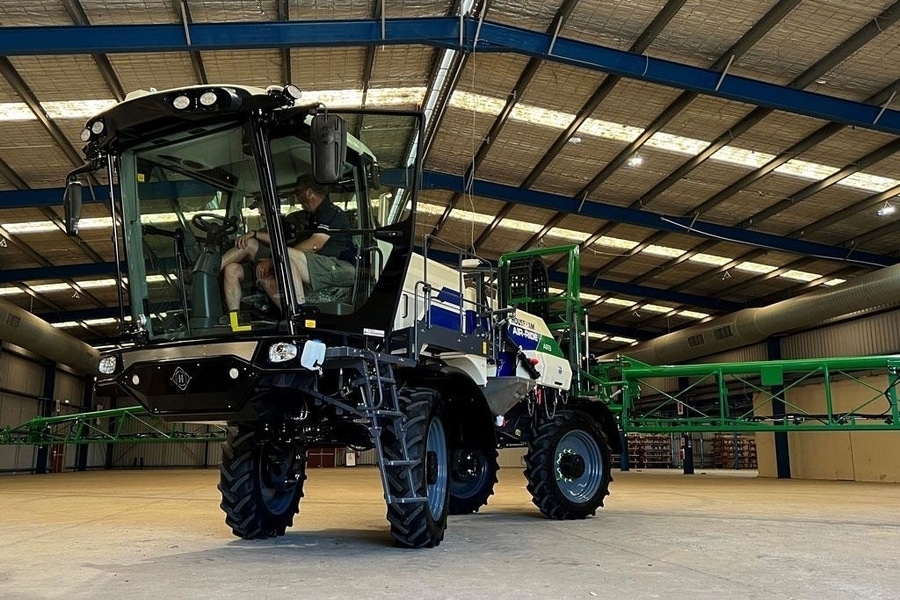 #

Farm Machinery & Equipment
Househam debuts new sprayer
Harrier self-propelled sprayer with good ground clearance suitable for vegetable growers
UK-based sprayer experts, Househam Sprayers have launched a new self-propelled model into the Australian market – the Harrier - boasting capacities of up to 6000-litres and up to 1100mm of underbody clearance.
The machine, distributed by TTMI in Australia, was unveiled to a group of stakeholders from the vegetable growing industry at a launch event in Warragul in Victoria earlier this year.
Three tank sizes are available – 40000L, 5000L and 6000L, while boom options include a triple fold boom with widths up to 36m or a 24m twin fold boom.
The axles are manually adjustable from 72 inches to 84 inches, with a hydraulic adjustment option available to customers as well.
Powered by a Stage-4 compliant 240hp 6-cylinder engine, the Harrier is environmentally friendly and fuel efficient.
The cab is a CLAAS Jaguar X10 cab that is spacious, quiet and fully air-conditioned. Other comfort features include a premium high back, climate controlled, air suspended leather seat; a fully integrated armrest, joystick and control panels; 27-litre high capacity fridge; radio with Bluetooth connectivity and optional Category 4 filtration.
A full LED lighting package comes standard, allowing operators to carry out their work confidently even in low light conditions.
The Harrier features the Househam-designed TMC (Total Machine Control) that integrates many functions into one simple-to-use touchscreen console, providing the operator with complete application rate control, engine management, hydrostatic drive control, built-in fault detection and automatic service reminders.
Househam's Spray Pilot auto-steering and NavGuide GPS mapping system are also included in the Harrier as part of its TMC. When combined with its Individual Nozzle Control (INC) and Auto Nozzle Select (ANS) nozzle technologies, the Harrier helps to improve spraying accuracy as well as reduce overspray, particularly in irregularly shaped paddocks.
Individual nozzles are activated electronically either automatically or manually from the cab.
Tank cleaning functions including boom flush, tank wash and tank rinse can all be done from within the cab.
The Harrier will feature at field day events and demonstrations across TTMI's Gippsland, Tasmania and Western Districts vegetable growing regions.
With the addition of the Harrier, Househam's local range now consist of four models – Spirit, Air-Ride, Harrier and Predator - that cater to every spectrum of farming from smaller farms to larger scale broadacre operations.
Importer TTMI has branches across Victoria's Gippsland region in Trafalgar, Leongatha and Maffra; as well as in the Victorian Western Districts in Warrnambool and Colac. TTMI also runs two premises in Tasmania in Longford and Latrobe.
Visit Househam Sprayers' website for more information.