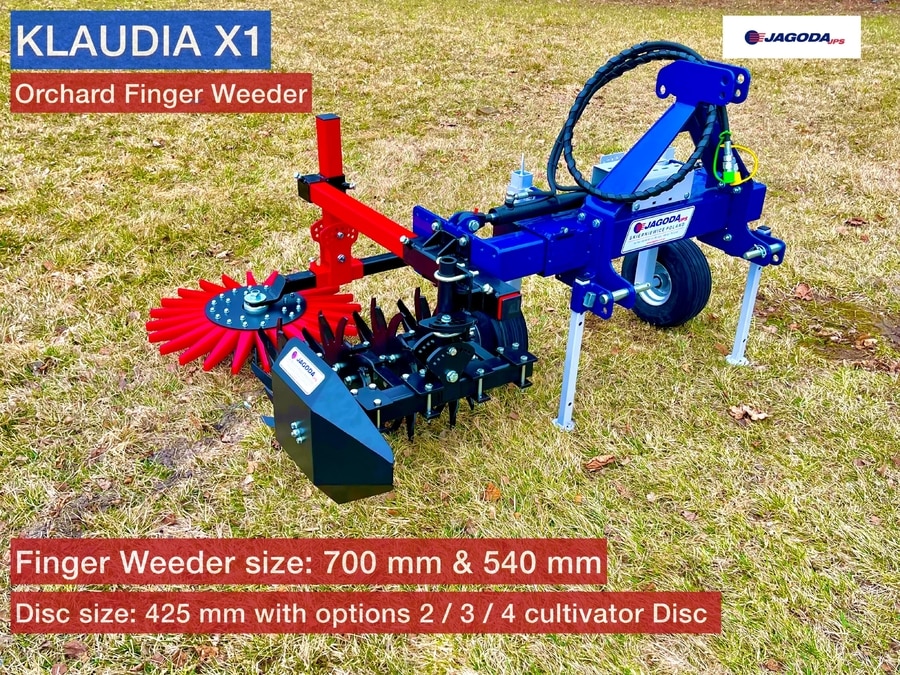 #

Farm Machinery & Equipment
Finger Weeder KLAUDIA
Orchard cultivator KLAUDIA
Orchard finger weeder KLAUDIA is designed for mechanical weed control in an organic orchard and crops where side weeding is required in fruit farming and it is perfect for vineyards, orchard and berry fields.
- The finger head size is 700 mm with 3 different degrees of hardness (Soft 80º, Medium 85º, Hard 90º), which provides wider coverage of the cultivated soil.
- In addition, a cultivator with discs is placed in front of the cultivating finger head, thanks to which the soil is loosened before the finger weeder will cultivate, which increases the effectiveness of the head's operation. Easy installation by adding 3 or 4 discs for the wide cultivating area;
- The finger weeder has many features as the hydraulically adjustable width for use in crops with different row widths, there are 2 versions for narrow row and wide row and the distance varied between 1.6 m single-sided m to 3.5 m double-sided;
The machine is mounted on the rear and front of the tractor connected by 3-point linkages and it is powered by the tractor's hydraulics for regulating the width.
The orchard finger weeder is designed in a way to allows adapting the machine based on different configuration based to the customer needs.